Service Rates

Below are the various Service plans for both on-site and in-shop Service. On-Site calls average 1 to 2 hours for most computer issues as our technicians are highly trained and extremely experienced. Special services or projects vary in time and cost and are quoted as such. Each service plan is on a first come basis.

PC/Mac Service onsite standard: $75.00 /hour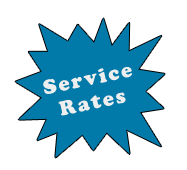 PC/Mac Onsite emergency: $120.00 /hour

In-shop rates, along with the average time it may take to get to the bench for repairs, are listed below. Once on the bench, we average 1 to 2 hours of labor cost for most computers. Turnaround time, once on the bench, depends on the work being performed and may take several days, while stand-alone tests, backups, part orders, etc., are being performed. Estimated labor costs are based on actual time worked on the equipment (time is not metered while standalone programs such as virus scans, etc. are being performed).

In-shop standard: $35.00 /hour
In-shop fast track: $55.00 /hour
In-shop emergency: $100.00 /hour

Non-refundable 1-hour payment for applicable Service Plan due at check in with balance due at pickup. Turnaround depends upon backlog, unique circumstances, and/or parts. Fees for labor only. Parts not included in above rates. We work as quickly as possible, but can not guarantee time to completion.